Claudia's Birthday in Warren Twp.
What We Served:
Assortment of fresh appetizers
Fresh mozzarella
Tomato and herb infused olive oil skewers
Teriyaki Sesame Meatball Skewers
Avocado Chicken Quesadillas
Chicken Francese and Eggplant Rollatini
Custom Mashed Potato Bar
Dessert Station
Early in February, I catered an event for one of my sister-in-law's good friends. We were celebrating a special 40th birthday for a beautiful fashionista named Claudia.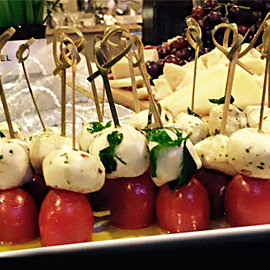 The event took place at Claudia's house for approximately 20 of her closest friends and family. The theme for the party was Chanel No.40 and featured a black and white color palette of assorted decorations including damask patterned banners, plates, and napkins. Candles, ivory flowers wrapped in Chanel ribbons, and white tulle accents were everywhere.

The menu included an assortment of fresh appetizers including fresh mozzarella, tomato, and herb infused olive oil skewers, teriyaki sesame meatball skewers, and avocado chicken quesadillas. Chicken Francese and eggplant rollatini were served as the entrée, alongside a custom mashed potato bar. There was a beautiful black satin tablecloth that adorned the dessert table which was covered in an assortment of beautiful desserts. Framed photos surrounded the table which displayed some of Claudia's favorite quotes by Coco Chanel.

A white chocolate covered chocolate covered silk cake with chocolate mousse filling took center stage on the dessert table. Dark double chocolate cupcakes were stacked on each side. Glass serving bowls surrounding the cake were filled with gourmet chocolate, rock candy, and black & white chocolate pearl candies. Overall it was a wonderful evening and by Chanel standards, classy and fabulous.